ATEN Secure KVM Solution
The ATEN Secure KVM Solution offers safe and reliable computer and peripheral access for government / military desktop environment where security is imperative, providing safe switching between computers operating on more than one secure network.
---
Solution Highlights
NIAP common Criteria Certified

The Secure KVM Switch is NIAP-certified and passed the Evaluation Assurance Level 2 (EAL2+) requirements for Peripheral Sharing Switch (PSS) for Human Interface Devices (HIDs) Protection Profile v2.1, satisfying the latest security requisites set by the U.S. Department of Defense for peripheral switches. Compliance ensures maximum information security while sharing a single set of HIDs (keyboards, mouse, speakers, etc.) between multiple computers. Conformity with Protection Profile v2.1 certifies that other USB peripherals cannot be connected to the console ports of the secure KVM switch, and that only a keyboard and mouse are accommodated, therefore providing high-level security, protection and safekeeping of data.
Multilayered Security

Chassis Intrusion Detection – renders the Secure KVM Switch inoperable when malicious tampering is detected
Tamper-proof hardware – all integrated circuits are soldered directly to the circuit board to prevent tampering with the components
Tamper-evident tape – monitors any attempt to physically access the switch's internal components
Non-reprogrammable ROM – prevents reprogramming the switch's firmware
Restricted USB connectivity – non-HIDs are ignored when switching
Port selection via Pushbutton only – selecting ports via OSD and hotkey methods are disabled to enhance security
Boost efficiency with KVM Feature

Consolidate multiple workstations of various security classification levels using one keyboard, monitor and mouse (KVM) console.

Speaker and microphone support.

Video DynaSync™ – stores the console monitor's EDID to optimize display resolution.
Channel Isolation

Isolated channel per port makes it impossible for data to be transferred between secure and unsecure computers.
High Resolution Video

DVI Dual Link feature offers true high definition capabilities required by professionals.
Cleared Keyboard Buffer

Switch's keyboard data is automatically deleted after it has been transmitted.
---
Products
2-port USB DVI Secure KVM Switch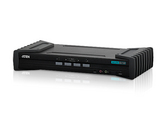 CS1184
4-port USB DVI Secure KVM Switch
---
Application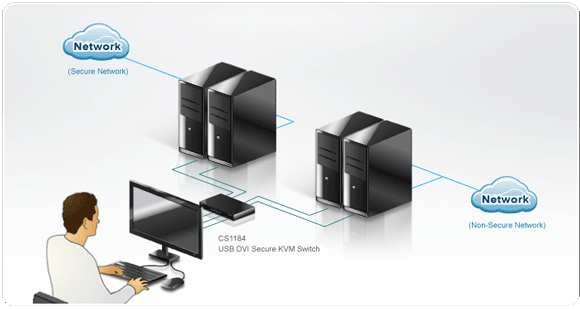 Secure Desktop KVM switching for High resolution
One USB console controls 4 secure computers

Port selection via Pushbutton

Safely controls multiple computers that are set up in separate networks (one secured network, one unsecured network)

Superior video quality — 2560 x 1600 (DVI Dual Link)