Video Splitters (SDI)
ATEN Video Splitters not only duplicate a single video source to multiple outputs, but also boost the signal so it can be sent over longer distances without degradation. Multiple splitters can be cascaded to three levels.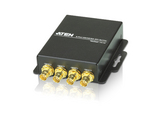 VS146- 6-Port 3G/HD/SD-SDI Splitter
The VS146 6-Port 3G/HD/SD-SDI Splitter receives one SDI input and retransmits the signal to six SDI outputs for real time viewing across multiple displays. It provides automatic cable equalization and distributes the SD-SDI signal over 300 meters.