Remote Kiosk Managament Solution
| | |
| --- | --- |
| Control all your kiosks from one central location > | |
With consumer autonomy on the rise, more and more companies are streamlining customer services and cutting costs by utilizing self-service devices to offer flexible and specialized services. From internet access or information kiosks to interactive kiosks, increasing high kiosk availability is critical for building consumer satisfaction and loyalty. ATEN KN1000 KVM Over the NET™ – combining remote BIOS-level access, virtual media functionality, power control, and serial console management in one box – offers you complete control of your kiosk computers. In addition, we know that your kiosks might not be all on the same premises. So, to help you manage multiple widely distributed kiosks efficiently from a control room or any location, ATEN CC2000 management software enables you to centrally manage hundreds of kiosks through a single portal from anywhere at anytime.
Tailored Products: KN1000 , CC2000
Example Installation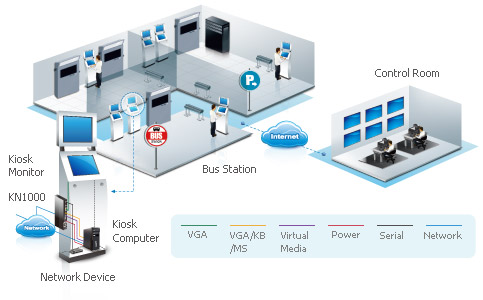 Solution Features
Remote access total control
With BIOS-level access and power management features, the ATEN Remote Kiosk Management Solution allows you to access and monitor kiosk computers, and even turn them on, off and reboot from your control room. The operating system UI of a kiosk computer can appear full-screen or as a window on your monitor, as if you were right there in front of your kiosks.
Serial console device management
In IT environments, servers and network devices are widely managed through secure serial terminal access. The ALTUSEN Remote Kiosk Management Solution provides serial console management over the internet. Telnet or SSH clients can be used to manage kiosk servers or serial managed devices such as network switches and routers simply and easily.
Centralized Management
In conjunction with the CC2000 management software, all the installed KN1000 which are used to control the kiosks can be integrated into a single tree view for centralized access, administration and management. A user-friendly GUI and supports Panel DynaArray™ – allowing you view the output of multiple ports in individual panels on the same screen, enabling easy and flexible management of your whole installation.
Powerful Security
The ATEN Remote Kiosk Management Solution offers powerful security features including password protection, IP/MAC filter, Smart Card /CAC Reader Support, flexible encryption, and external authentication support. In addition, with configurable permissions features, users/groups can only control the kiosk computers which they are authorized to access.
Real-time Update
Virtual Media allows you to map DVD/CD-ROMs and other storage media to a remote kiosk computer to easily perform firmware upgrading, diagnostic testing, file transfer, and OS and application patches from the comfort of your desk.
Share Control
With multiple login support, the KN1000 KVM Over the NET™ allows up to multiple users to log in at the same time. Three types of share mode – Exclusive, Occupy and Share – offer you total flexibility in sharing computer access. The message board function allows users who are logged in to instantly communicate with each other to alleviate the problem of access conflicts arising from multiple logins.
Benefits

Minimize Downtime
100% access to kiosk computers when frozen or with a blue screen. You are able to troubleshoot problems in real time.

Boost Efficiency
Configurable user/group permissions for decentralized management and share access support for collaboration operations – boost management efficiency.

Reduce Costs
Remote control and centralized management of all kiosks avoids on-site servicing – save on manpower and travel costs.

Save Energy
Power on/off for kiosk computers according to peak usage – save on energy costs.

Extend System Life
Power down a kiosk when not in use – extend it.

Applications
Airports & Train Terminals

Ticket Kiosks

Check-in Kiosks

Flights/

Train Information (Arrival/Departure times; In-transit status)
Retail Outlets & Department Stores

Payment Kiosks

Self Service Kiosks (Payments; Returns)

Information Kiosks(Sales; Comparative Pricing; Location of Goods)
Exhibition Center / Public Square

Check-in Kiosks

Local Activities Kiosks

Public Service Information Kiosks