Host Controller Cards
ATEN USB PCI or PCI-e Cards / USB Express Cards allow you to add a USB hub to your computer / notebook without taking up valuable desk space. For your desktop, just plug the USB card into a PCI or PCI-e slot on the computer's motherboard.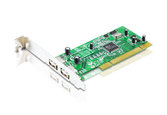 IC220U- 2 Port USB 2.0 PCI Card
IC220U is a PCI card with 2 USB ports. It supports hot plug and PnP.
Comparison charts;