USB/FireWire Hubs
ATEN offers 2/4 port compact USB 2.0 hubs for desktop and laptop computers. They are ideal for users who need to connect multiple devices like keyboards, mice, printers, scanners, PDA and flash drives.
UH284- 4 Port USB 2.0 HUB
The UH284 is ATEN's compact and highly functional 4 port USB 2.0 hub series for the desktop or the laptop. It features built-in Magnet Pads and can be placed almost anywhere. UH284 provides 4 additional USB 2.0 ports for existing USB Systems, including an easy access port which is ideal for connecting a flash drive.
UH275- 4 Port USB 2.0 HUB
UH275 is a hub with 4 built-in USB2.0 ports. It has LEDs to indicate the connections status, and its handy and slim design allows users to carry it in pockets.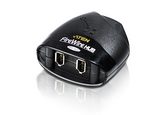 FH300- 3 Port FireWire HUB
The FH300 IEEE 1394 Hubs provide three 1394a compliant ports that support data transfer rates of 100.200,and 400 Mbps. Each port automatically switches to the highest speed that the peripheral supports.
Comparison Charts;